Opening
Living God, quiet my heart and mind to be attuned to you in these moments. I check within to notice what feelings and needs are there, aware that sometimes the joy of the holiday doesn't match the feelings within. I bring my full self to you. Speak to me and meet me where I am on this most meaningful of days.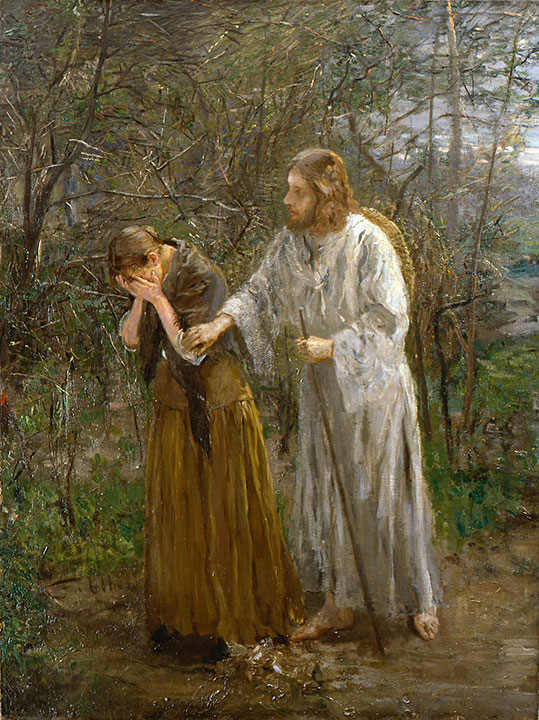 Reflection
Meet us in our own stories as you met Mary, and bring life to them. Risen Lord, we have waited for this day after the journey of this week. We have needed to get to Resurrection and Hope. Speak to us deeply through your Word.



Invitation
As you read the scripture, pay close to attention to the disciples. Are you drawn to a particular one? What do you notice about them? Watch how Jesus responds to Mary. He invites her to speak her pain, to tell her story before he reveals Himself.  Notice the way in which Jesus meets her where she is.



John 20:1-18
"Early on the first day of the week, while it was still dark, Mary Magdalene came to the tomb and saw that the stone had been removed from the tomb.  So she ran and went to Simon Peter and the other disciple, the one whom Jesus loved, and said to them, "They have taken the Lord out of the tomb, and we do not know where they have laid him." Then Peter and the other disciple set out and went toward the tomb. The two were running together, but the other disciple outran Peter and reached the tomb first. He bent down to look in and saw the linen wrappings lying there, but he did not go in. Then Simon Peter came, following him, and went into the tomb. He saw the linen wrappings lying there, and the cloth that had been on Jesus' head, not lying with the linen wrappings but rolled up in a place by itself. Then the other disciple, who reached the tomb first, also went in, and he saw and believed; for as yet they did not understand the scripture, that he must rise from the dead.  Then the disciples returned to their homes.


But Mary stood weeping outside the tomb. As she wept, she bent over to look into the tomb;  and she saw two angels in white, sitting where the body of Jesus had been lying, one at the head and the other at the feet.  They said to her, "Woman, why are you weeping?" She said to them, "They have taken away my Lord, and I do not know where they have laid him." When she had said this, she turned around and saw Jesus standing there, but she did not know that it was Jesus.  Jesus said to her, "Woman, why are you weeping? Whom are you looking for?" Supposing him to be the gardener, she said to him, "Sir, if you have carried him away, tell me where you have laid him, and I will take him away." Jesus said to her, "Mary!" She turned and said to him in Hebrew, "Rabbouni!" (which means Teacher).  Jesus said to her, "Do not hold on to me, because I have not yet ascended to the Father. But go to my brothers and say to them, 'I am ascending to my Father and your Father, to my God and your God.'" Mary Magdalene went and announced to the disciples, "I have seen the Lord"; and she told them that he had said these things to her."



Prayer Response
Lord,
My heart is bursting with the Yes of today.
Even though there is still sorrow and shadows,
hardships and corners of despair, they do not have the last word!
Indeed they cannot.
Easter is about Yes, the Great Yes that says,
death and sorrow and despair
are overcome.
Hope becomes real and deeply felt.
We know promise and presence because You live!
Thank you that the light is greater than the darkness.
Thank you that life is stronger than death.
Thank you for the way you share our lives.
Thank you for the way you bring life and Yes to us.
We praise you for the unspeakable joy of living with you and the hope it brings.
Amen.