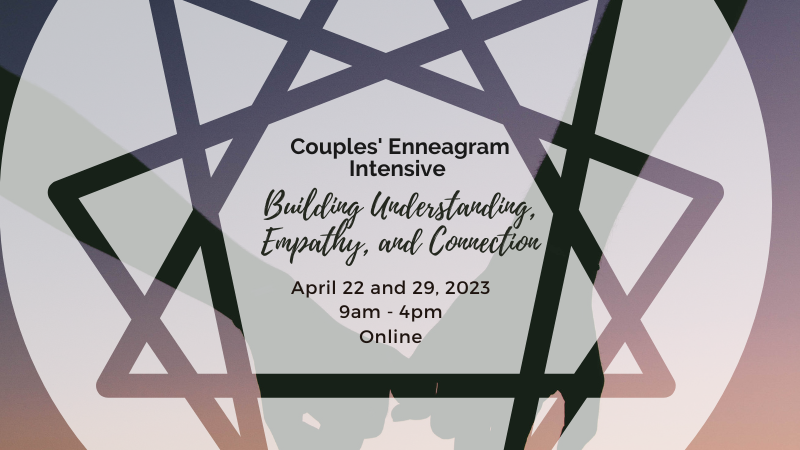 Couples' Enneagram Intensive: Building Understanding, Empathy, and Connection
A two-part series via Zoom

Saturdays April 22 & 29, 2023
9:00am – 4:00pm Central Time
This is a time for couples to learn with and from one another. We explore in depth each couple's unique Enneatype combination. The group dynamic offers valuable insights and shared spaces, as each couple brings their unique mix into the circle. Some familiarity with the Enneagram and a basic understanding of your Enneatypes is recommended. Group size will be limited to 5 couples. When you register for Day 1 you will automatically be registered for Day 2 as well. The sessions will be led by Pam Sutherland, a spiritual director and Enneagram consultant, teacher, and coach. She and her husband Brian have been married for 30 years; they have four children and eleven grandchildren… so far.
Registration Deadline: April 14
Cost:$300 per couple
Pay here which is your registration: https://givebutter.com/My92pO
Session Descriptions
Day 1 – Saturday, April 22: How we Share the Space Between Us                     
Individuals and couples deepen their empathy for each other's inherent giftedness, natural intelligence, and struggles as we invite each person to speak from their unique Enneatype perspective. We explore in depth the patterns of thinking, behaving, and relating specific to each couple's Enneatype mix, including the impact of wings and arrows. Together we consider what it looks like to love each other well in light of these combinations and movements.
Each couple will have approximately 2 hours of pre-session preparation before this session, including identifying their enneagram types if they haven't already done so.
Day 2 – Saturday, April 29: How we Move in Understanding, Empathy, and Compassion
We examine more deeply the patterns that enhance and impede connection, including Enneatype-related communication styles,  and the ways we most often feel 'missed' or misunderstood. Building on the Day 1 content, couples Identify and explore opportunities for making intentional shifts to enhance connection and navigate their patterns of relating in more compassionate ways. Each couple will be invited to thoughtfully consider their vision for their shared journey forward.